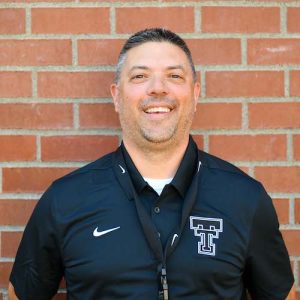 Current Team

Tualatin Timberwolves
Coach Ferraro (Fir-r-o) is starting his first season with the Wolves.  Before joining Tualatin, he was the Head Football Coach at Forest Grove High School taking a program that had won 10 games in 5 years and narrowly missing the playoffs in his first season.  Before taking over at FG, Coach Ferraro served as the Offensive Coordinator for Sunset and Westview High School for 10 years.  He has been fortunate to coach some amazing high school football players who have helped shape some of the most explosive offenses in the state or Oregon in 6A football.  Coach Ferraro is entering his 17th season as a high school coach.
Coach Ferraro's program philosophy centers around developing Character, Strength, and Honor in our players and coaches and focuses on living your life by 3 simple rules.  Do what's right, do your best, and treat others how you want to be treated.
Dom is married to his wife Beth (15 years) and the couple have 2 children, Peyton (13) and Colton (10).  Both kids regularly help out on Friday nights running game balls and helping with water.